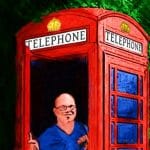 I'm a self professed geek with a camera, a life-long fan of sci-fi, fantasy and technology. Somehow, I stumbled onto a love for travel and shortly after uncovered my true calling in life as a visual artist.
If you have any questions or comments, please don't hesitate to contact me!
Tisdale Art
Put Some Gas In The Tank!
Using this search to shop Amazon will NOT increase your prices but I will get a small percentage of the sale! Thanks in advance!